Fair Exacta Payouts
| Pgm # | Odds | | | p |
| --- | --- | --- | --- | --- |
| 1 | | | | |
| 2 | | | | |
| 3 | | | | |
| 4 | | | | |
| 5 | | | | |
| 6 | | | | |
| 7 | | | | |
| 8 | | | | |
| 9 | | | | |
| 10 | | | | |
| 11 | | | | |
| 12 | | | | |
| 13 | | | | |
| 14 | | | | |
| 15 | | | | |
| 16 | | | | |
| 17 | | | | |
| 18 | | | | |
| 19 | | | | |
| 20 | | | | |
The Fair Exacta Payouts calculator shows you how much an exacta bet should pay given the odds. The payouts are based on a paper by D.A. Harville. In theory, bets on the fair exacta payouts on average will break even. Bets on exactas that pay more than the fair exacta payouts should produce a profit in the long run, in theory.
Enter the payout odds.
Click "Get Exactas".
Click "Next" or "Previous" to display different exactas.
The exactas shown are for a $2 bet.
The win probabilities, based on the odds, are also shown.
Click "Clear" to erase the fields and start again.
Tips
Be sure to enter the odds for all entries. Leaving out an entry will skew the results.
The maximum exacta payout shown is 10,000. If you see 10,000, the actual fair exacta payout may be higher.
The probabilities are based on the odds.
If the odds you enter do not accurately represent the win probabilities, then the fair exacta payouts will be inaccurate.
Even with accurate odds, the fair exacta payouts may be inaccurate if the Harville assumptions don't apply for the given race.
Even with accurate fair exacta payouts, you can still lose by betting on exactas that pay more than the fair exacta payouts.
We make no claim that you will win or that you will not lose if you make the bets by following Fair Exacta Payouts.
The Fair Exacta Payouts calculator is presented for information purposes only.
Use Fair Exacta Payouts on your computer, tablet or smartphone.
Try our Win Bet Optimizer calculator.
Fair Exacta Payouts Picks Winning Exacta in the 2014 Kentucky Derby!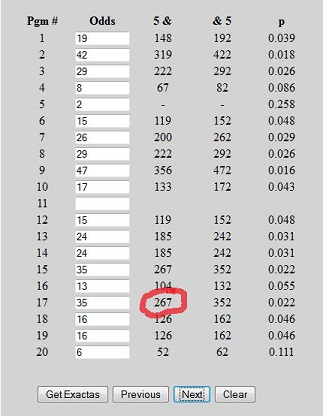 The $2 exacta payout for the winning combination 5-17 was $340. A player using the Fair Exacta Payouts calculator would have known that this was a good bet to make.
According to the calculator, an exacta paying $267 would return 100% of the money bet, on average. So a player betting on the exacta paying $340 would have a theoretical edge of (340/267 - 1) x 100% = 27.3%.